Enjoy fresh seafood of Setouchi, Kobe beef, salt-encrusted sea bream and more that are a luxury your mind and body will love.
We particularly focus on our soup stock and salt used for our dishes and our cuisine brings out the maximum flavor of each ingredient.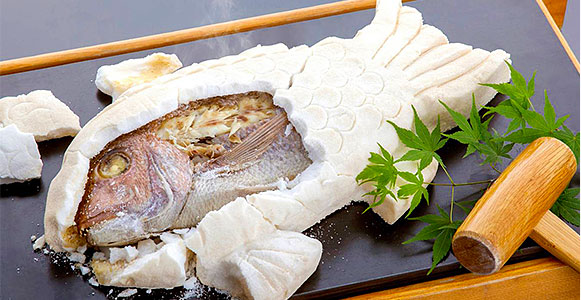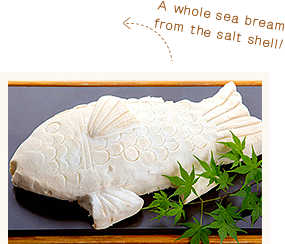 Ako is an area famous for its salt. Ako solar salt has a sweet and gentle taste.
There is also algae salt of Setouchi, and we use a variety of salt that is perfect for the dish.

A famous dish perfect for Ako made with our famous salt.
The sea bream with scales attached is wrapped in salt and egg white. Each design on the surface is handmade by our master chef.
The sea bream is tender and moist after cooked in the oven for an irresistible taste.

Our master chef hand-selected vegetables from specific regions such as Kyoto and Banshu.
The exquisite Japanese cuisine is colored with fresh ingredients tailored to each season to bring out the natural flavor of the ingredients.

We utilize a special process for creating our soup stock from well-selected ingredients.
This creates stock that is gentle on the taste buds yet has depth of flavor.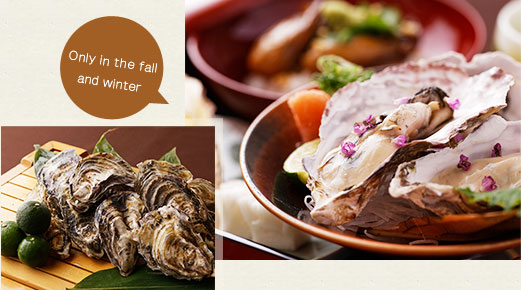 Ako is famous for its oysters.
Oysters are in season from the middle of November to the beginning of March.
We hope you can stay with us during this period to enjoy the tasteful oysters while in season.

Ako oysters are mainly cultivated in the Sakoshiwan Bay area where the tides are gentle and high quality plankton are nutritious.
The oysters carefully cultivated in this perfect environment for growing turn into plump oysters with tender meat in just one year.
"One-year Ako oysters" are known for being easy to eat and not having a bitter taste. The melt-in-your-mouth flavor and refreshing scent of the sea go hand-and-hand in your mouth.
We hope you have a chance to enjoy Ako oysters with its plump and tender meat during their season.

How about a drink with your dinner?
We offer a variety of different alcoholic beverages such as beer, Japanese shochu, wine, champagne and more, including sake from the local area.
Please order it along with your meal.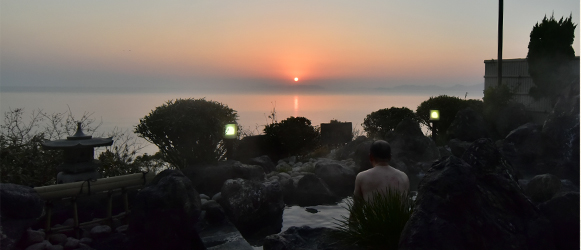 Take a dip in the Ako Hot Spring Yomigaeri-no-Yu while taking in the great scenery. On clear days, guests can see the various islands dotted in the Seto Inland Sea along with the beautiful sunrises and sunsets.

Ako Hot Spring was selected as one of the 100 Best Hot Springs in Japan.

This is one of the best hot springs in Japan that has great health properties to relieve fatigue.

The hot spring includes many minerals that moisturize and make skin more beautiful.

Enjoy the beautiful sunrise and sunset from the hot spring.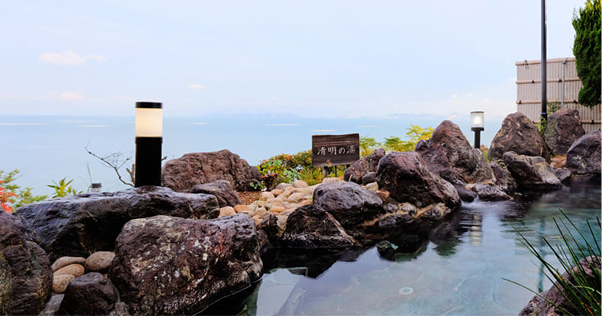 The best spot overlooking the Seto Inland Sea at the hotel is our open-air bath. Feel the rays of sunshine on you as the sun rises, and relax under the moonlit sky in the night.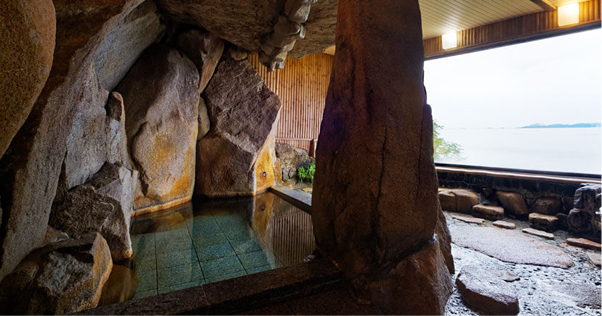 This bath has giant windows to the sea and is surrounded by rocks. The vantage point is like a painting and guests can enjoy the changing sea scene as time passes.

Our hotel has a large bath for guests and it can be enjoyed together with our other baths.
*The large bath does not use water from the hot spring.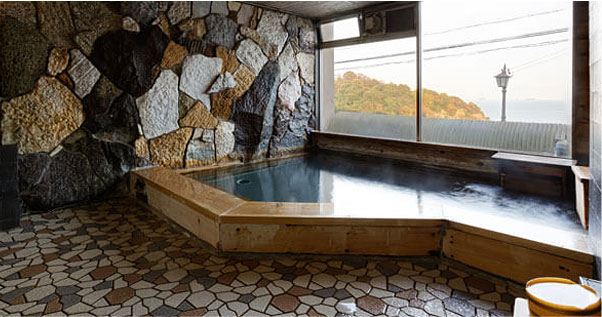 Check-in15:00(Last 23:00)

Check-out10:00

Welcome to DONKAIROU. The front desk is on your left when you enter the hotel. Please feel free to contact us at any time if you have an issue. The front desk has pamphlets on sightseeing areas around Ako and Himeji. Please take one.

Free Wi-Fi

Guests can see the Seto Inland Sea from the lobby. Our hotel has a drink area (free) so guests can relax while drinking a cup of coffee or herb tea. Guests can use Wi-Fi in the lobby free of charge.

Opening hours15:00~20:00 / 7:00~10:00

Our hostess provides hand-selected drinks free of charge to guests as you relax on the round-shaped tatami in the Hinata, a sit down area. This is a wonderful area to enjoy the sunset and sunrise as time slowly passes by.
Breakfast and dinner are provided in our restaurant on the second floor. Seating is at western-style tables. The space can also be used for banquets so please inquire for more details.

Guests can view the sea from the large bath.
*Advance reservation is required for the private bath. *The large bath and private bath do not use hot spring water.

Ako Hot Spring is one of the 100 Best Hot Springs in Japan and a perfect place to enjoy the magnificent views. The hot spring itself has beautifying elements and is called Yomigaeri-no-Yu.
*The use of the Japanese cypress, rock bath and large rock bath are changed daily for men and women.

Opening hours8:00~21:00

Ako is famous for its salt. In addition to Ako salt, we also have a number of souvenirs from Okayama and Himeji. We particularly recommend the salt-flavored manju from Mishimaya.





*It is an approximate 10-minute drive by taxi from Banshu-Ako Station (Approximately 25 minutes from Aioi Station).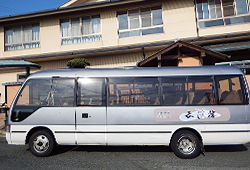 How to make a reservation

Fill in the remarks column of the reservation form

, or


Reserve by phone at least one day in advance (Phone: 0791-42-6601)

Times & Location
Banshu-Ako Station - DONKAIROU 15:40, 16:40
DONKAIROU - Banshu-Ako Station 09:30, 10:10